What are the Little Charmers?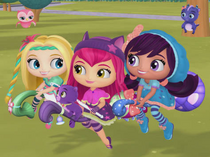 "Little Charmers" is a series starring three young Charmers- girls with magical abilities who live in the magical land of Charmville. Together they include Hazel, the mischievous but well-meaning protagonist, the Sweet Spellerina Posie, and the fashionable Potionista, Lavender. Together they go on many adventures and encounter magical mishaps on a daily basis. But with their friendship they are able to overcome anything!
Little Charmers began airing on Nick Jr January 2015.
Charming Rules: How to Become a True Charm Scout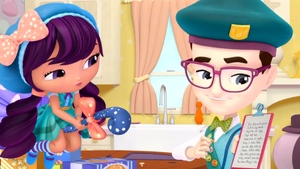 Please abide to them to assure that everyone has a nice, fun time!
No 'adult' content will be permitted. This includes dirty images and foul language as this wikia is intended for any age.
Please do not Flame or Spam the series or this wikia - it has done nothing to you and we do not find it funny.
Badge-hunting is not allowed and if this happens on multiple occasions, they will be shut off.
Please try to avoid arguing or fighting. Any dispute between members should be reported to an Admin or haulted immediately.
Anything related to fanon is not allowed on this wiki. Do not post it on any pages or it will be removed. Users who post this kind of stuff will only be warned once before being blocked.
Only information taken directly from the series can be added to the wiki articles. This means edits based on speculation and guessing can't remain on the wiki and will be immediately undone.
Take your time when writing. Use best grammar, both in articles and comments.
Overall do not think that, just because this is a wiki based on a children show, you can do what you want thinking no one of the admins will eventually care, because they do.